Big Oil has a labor problem, but it's not the one they claim.
The biggest U.S.-listed oil and gas companies have cut worker pay while increasing CEO compensation in the two years since their unprecedented, taxpayer-funded bailouts at the start of the pandemic, a BailoutWatch analysis has found. The widening pay gap accompanied widespread layoffs.
Yet industry leaders, asked to account for windfall profits and higher prices, are telling Congress that people no longer want to work in relatively high-paying oil jobs.
"Who wants to come back and work in the oil and gas industry? We just can't get people back," Pioneer Natural Resources CEO Gary Sheffield told lawmakers during a hearing of the House Energy and Commerce Committee's Subcommittee on Oversight and Investigations last month, blaming a worker shortage for the industry's failure to increase production to meet higher demand and ease the burden of high prices on consumers.
Yet Sheffield's 2021 compensation package was worth $16 million, 96 times the median worker's pay — up 19% from his 2019 compensation. Meanwhile, the median worker's pay at Pioneer fell 3% in that two-year period, according to public filings. Sheffield's gains from selling stock this year, at $17.3 million, already exceed his entire compensation package from last year.
The main factor underlying pay cuts, layoffs, production cuts at Pioneer and across the industry is so-called "capital discipline" — an effort to maximize cash available for stock buybacks and dividends, accounting maneuvers that funnel cash to insiders and shareholders. Across the industry, companies are increasing dividends and buybacks while deflecting questions about how fossil fuels' boom-and-bust cycles harm regular Americans.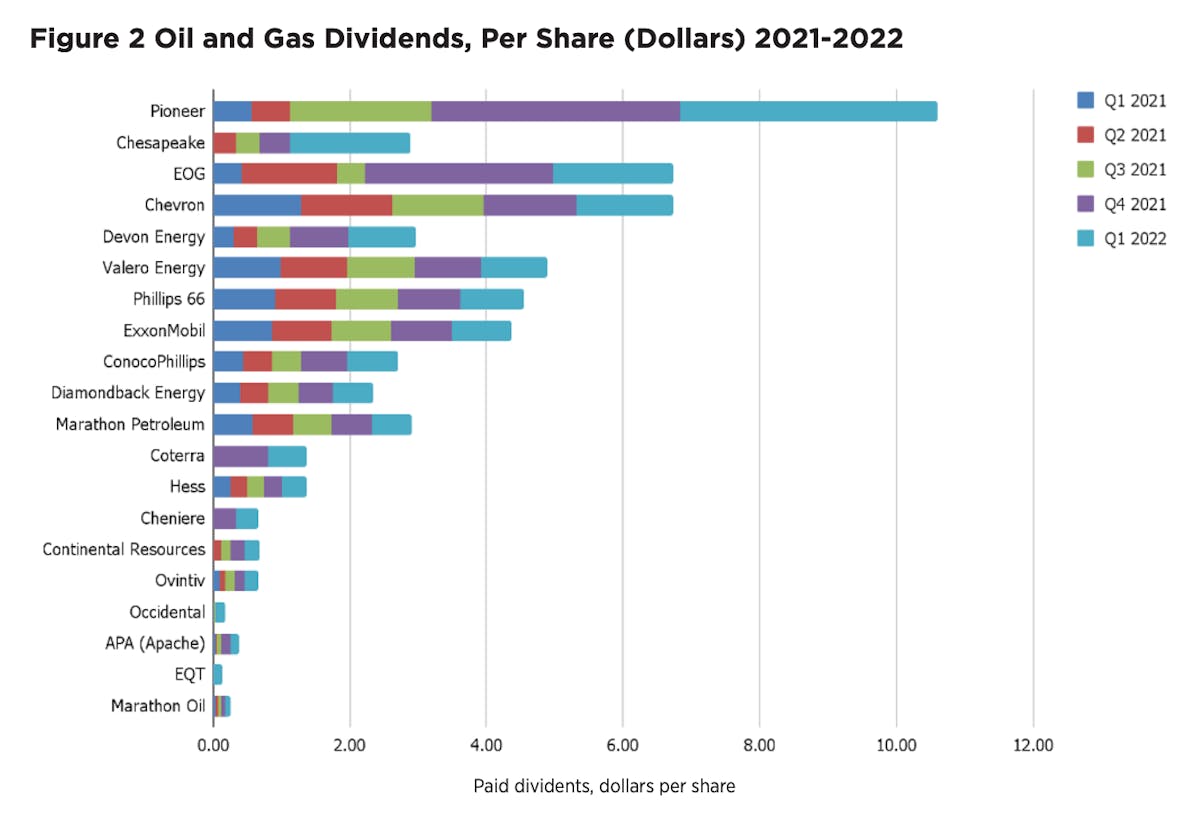 At the 19 biggest oil and gas companies by market capitalization, CEO compensation increased, on average, by about 11% in the two years beginning in 2020. The median worker's pay fell by about 1%, on average. CEOs have cashed in on the Ukraine war by selling shares while thousands of workers lost their jobs.
Among the other findings:
More than half (10) of the 19 companies paid their CEOs more than 100x their median worker's total compensation last year. Those companies are: Exxon Mobil Corp., Chevron Corp., ConocoPhillips, Marathon Petroleum Corp., Valero Energy Corp., Phillips 66, Diamondback Energy Inc., Coterra Energy Inc., Marathon Oil Corp., and EQT Corp.
At companies paying their CEOs more than 100x the median worker's pay, a net 21,610 workers lost their jobs in 2020 and 2021
The pay gap between CEOs and the median worker widened at 12 of the 19 companies last year
The lowest ratio of CEO pay to median worker pay was 51:1 (EOG Resources). The highest was 142:1 (Marathon Petroleum Corp.)
The findings reveal the desperation in Big Oil's finger-pointing when faced with calls to help drive down punishingly high gasoline and home-heating prices for consumers and address the impacts of the climate emergency. A widening gap between CEO and worker compensation shows how the the industry is aligned to benefit insiders and investors, even at the expense of workers, consumers, and the environment — even just after multi-billion dollar rescues funded by taxpayers.
They come as Democratic lawmakers seek to advance a windfall profits tax that would provide rebates to consumers to help offset higher prices.
Sheffield is not the only oil CEO blaming workers for high prices. In March, an unnamed oil CEO blamed supply constraints on "serious workforce issues" and departures, in part "due to the vilification of the oil and gas industry," responding to the Federal Reserve Bank of Dallas' quarterly energy survey.
This analysis considered the 20 biggest U.S.-listed Oil & Gas companies by market capitalization, then excluded Chesapeake Energy, which did not disclose some key data during its recent bankruptcy. The 19 companies analyzed, ranked by market capitalization: Exxon Mobil Corp. (XOM), Chevron Corp. (CVX), ConocoPhillips (COP), EOG Resources Inc. (EOG), Pioneer Natural Resources Inc. (PXD), Occidental Petroleum Corp. (OXY), Marathon Petroleum Corp. (MPC), Devon Energy Corp. (DVN), Valero Energy Corp. (VLO), Cheniere Energy Corp. (LNG), Phillips 66 (PSX), Hess Corp. (HES), Diamondback Energy Corp. (FANG), Continental Resources Inc. (CLR), Coterra Energy Inc. (CTRA), Marathon Oil Corp. (MRO), APA Corp, formerly called Apache Corp. (APA), Ovintiv Inc. (OVV), and EQT Corp (EQT).
View the spreadsheet containing the underlying data.
For questions and interview requests, please reach out to Shravya Jain-Conti, [email protected].