Oil and gas companies are reporting surging fourth-quarter profits, driven by higher prices paid by customers. The news comes as the Russian invasion of Ukraine spikes oil prices to seven-year highs.
Just a year after the Fed ended bailout programs aimed at propping up oil and gas through the pandemic, the same companies are generating enough excess cash to return billions to shareholders in the form of dividends and share buybacks.
The announcements highlight how fossil fuels enrich insiders in good times and bad, with consumers and taxpayers always picking up the tab.
BailoutWatch will publish complete analysis of the industry's annual financial disclosures as they are released in the coming weeks. Here are some highlights so far: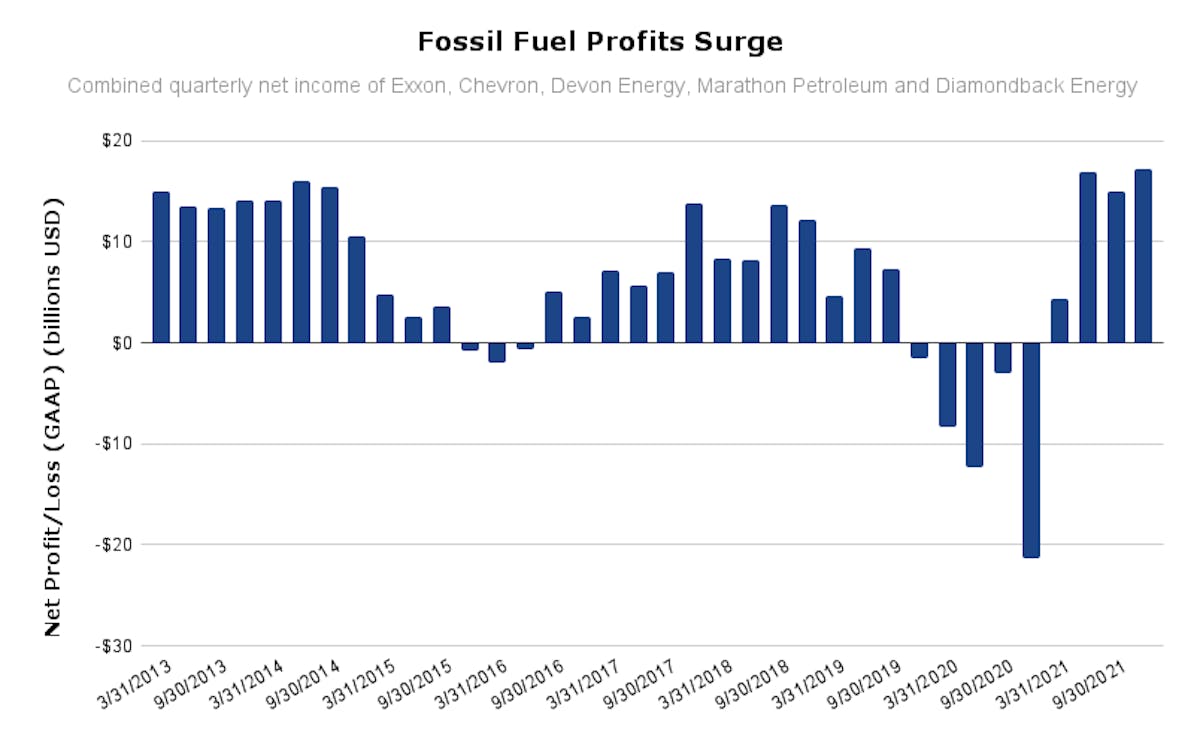 _ Chevron earned $15.6 billion in 2021, the most since 2014, with record oil-equivalent production of 3.1 million barrels per day. The company boosted its dividend paid to shareholders for the 35th year in a row.
_ ExxonMobil's fourth quarter profits were the highest in seven years, providing enough surplus cash to increase spending on share buybacks by up to 45%.
_ Devon Energy paid out $1.3 billion in dividends last year. The company is on track to double its dividend again this year after boosting these shareholder payouts five quarters in a row.
_ Marathon Petroleum authorized spending another $5 billion on share buybacks, after buying back shares worth $3 billion just in the final two months of 2021.
_ Diamondback Energy boosted its base dividend by 20%. Chairman and CEO Travis Stice said the dividend "is really just a form of debt," meaning the company will keep paying it regardless of profitability.
Last year saw tens of thousands of layoffs by companies whose 2020 bailout checks had barely cleared into their bank accounts. The industry blamed Covid. 
Oil prices surpassed $100 a barrel this week as Russia invaded Ukraine. The latest price spike will likely lead to yet another borrowing binge and unsustainable, debt-fueled expansion by the heavily indebted companies.