WASHINGTON— Electric utilities have disconnected U.S. households more than 3.6 million times since the beginning of the COVID-19 pandemic while shareholder returns and executive compensation have skyrocketed, according to Powerless in the Pandemic 2.0, a new report from the Center for Biological Diversity and BailoutWatch.
The massive wave of power shutoffs preceded Russia's war on Ukraine, which has led to high volatility in fossil gas prices that may put more families at risk of disconnection. Changes in gas prices generally pass through to utility customers rather than utilities, according to the U.S. Energy Information Administration.
The report's key findings:
Families had their power shut off more than 3.6 million times between January 2020 and December 2021, with an increase of 79% between 2020 and 2021.
A 12-member Hall of Shame — including utility holding companies NextEra Energy (parent of Florida Power & Light), Duke Energy, Southern Company (parent of Georgia Power), Exelon (parent of Pepco), and DTE — perpetrated 87% of all documented disconnections. These companies shut off families over 3 million times in 2020 and 2021 while increasing shareholder payouts by $1.9 billion, or 13%. Those shareholder payout increases could have forgiven the unpaid bills five times over.
Eight Hall of Shame companies laid off employees while increasing executive compensation by an average of 24%.
Five states accounted for 69% of all disconnections: Florida, Georgia, Indiana, Pennsylvania and Illinois.
Only 33 states and Washington, D.C., require utilities to disclose disconnections. There is no federal oversight to address this lack of transparency. Though this report presents the most exhaustive data set available, it covers a fraction of the people affected.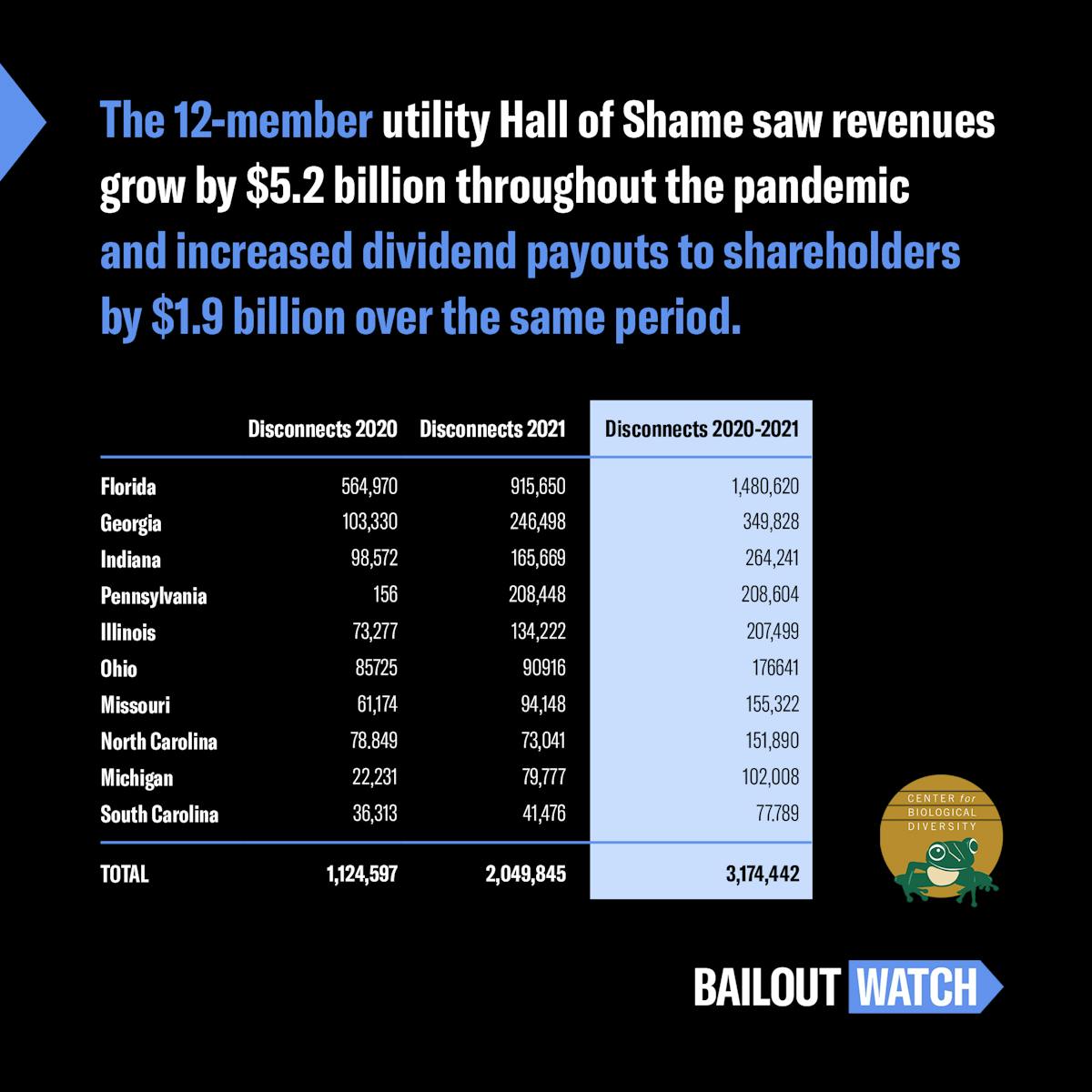 "It's appalling that millions of families have lost electricity while utility oligarchs reap huge windfall payouts," said Jean Su, director of the Center for Biological Diversity's energy justice program. "Russia's war on Ukraine has only heightened household energy fragility and put more folks at risk. This moment is a clarion call to the federal government to reform the broken utility power sector, which relentlessly puts profits over people and the planet."
"Utility companies are deliberately prolonging their dependence on fossil fuels and passing volatile fuel prices on to consumers. Our research shows that millions of Americans are disconnected when they can't pay their monthly electric bills, while these utilities pass windfall profits to shareholders and executives through dividends and bonuses," said Chris Kuveke, data analyst at BailoutWatch and principal of Tiger Moth LLC.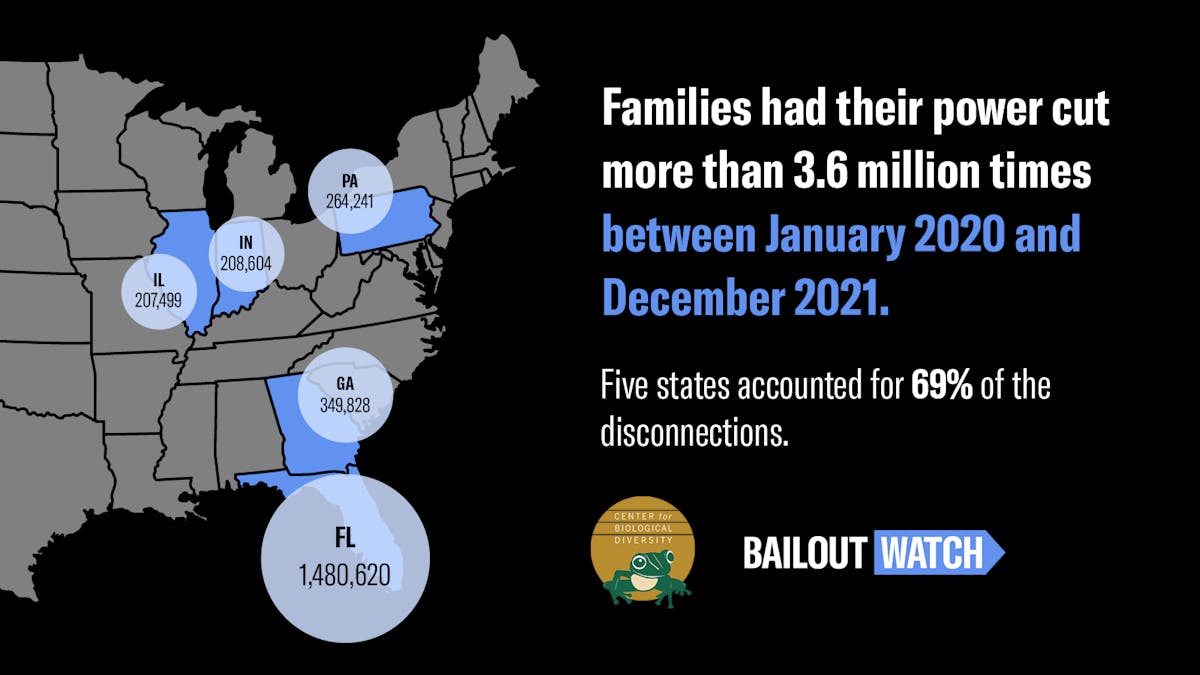 The House Energy and Commerce Committee recently demanded that top utility companies answer for their high customer shutoff rates during COVID-19.
Our new brief updates the September 2021 Powerless In the Pandemic report, which found that electric utilities had shut off the electricity of poor American families nearly 1 million times during the first year of the Covid-19 pandemic, increasing the likelihood people would become sick and die.
A recent analysis by InfluenceMap showed that top private utilities have actively fought to obstruct climate policy that would rein in carbon pollution. Utility companies Southern Company and First Energy top the list for both high disconnection rates and actions taken against climate policy progress.

+++

For questions and interview requests, please reach out to Shravya Jain-Conti, [email protected] or Jean Su, [email protected]