U.S. oil and gas companies increased their pace of layoffs last year as they cut costs to satisfy Wall Street investors, leading to record profits in the year after they got multi-billion dollar pandemic bailouts from taxpayers.
The 20 biggest U.S. fossil fuel firms cut nearly 15,000 jobs in 2021, up from a net loss of 13,000 jobs the previous year, a new BailoutWatch analysis of their securities filings has found. After accounting for merger and acquisition activity, 19 of the 20 companies likely posted net job losses over the two-year period, the analysis found.
The tempest of buyouts, layoffs, and downsizing came amid a renewed focus on returns paid to Wall Street investors and insiders through dividends and share buybacks — what the industry calls "capital discipline." Part of that effort includes cutting costs, often by eliminating jobs through automation, mergers, and acquisitions.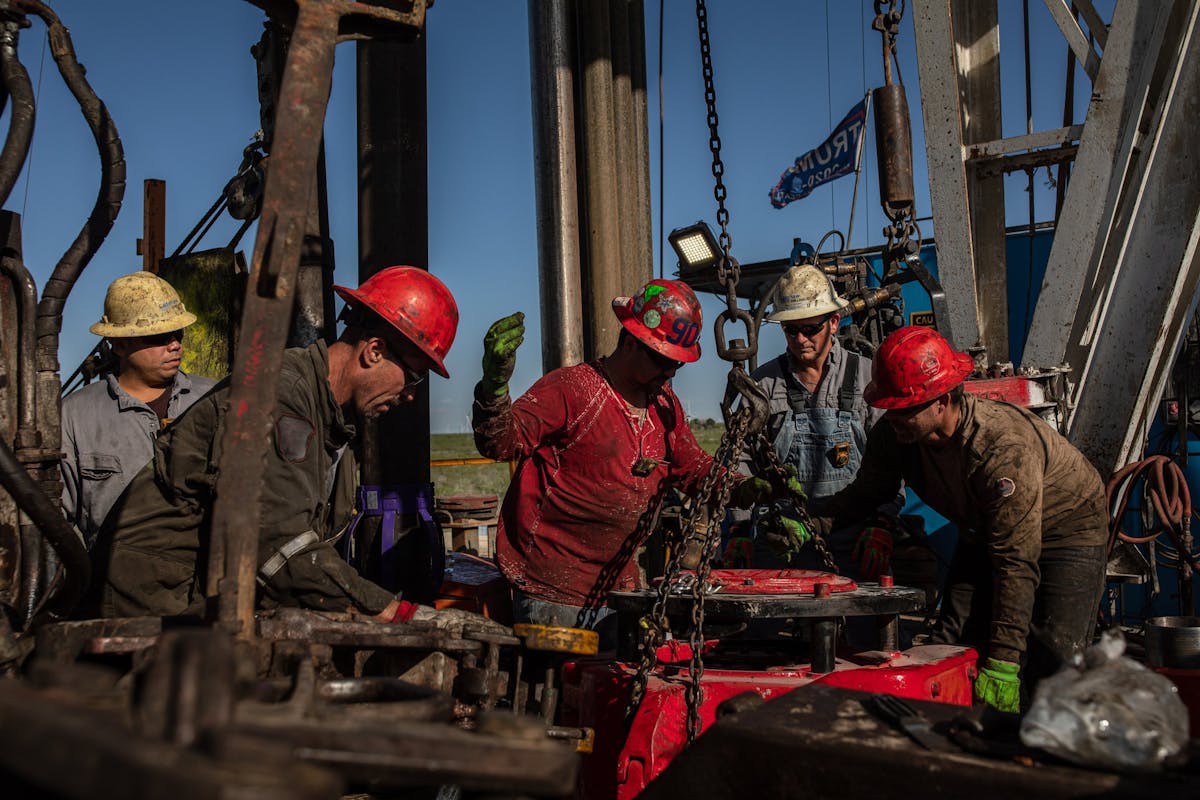 Among the other findings:
The companies slashed payrolls by 13% over a two-year period, eliminating 6% of their 2019 workers during 2020 and another 7.3% during 2021
Sixteen of the 20 companies reported net job losses from the end of 2019 to the end of 2021. Of the four posting net increases, three actually eliminated jobs after accounting for their acquisitions of smaller competitors
Half the companies cut more than 10% of their employee headcounts between 2019 and 2021: Exxon Mobil Corp. (XOM), Chevron Corp. (CVX), Pioneer Natural Resources Co. (PXD), Occidental Petroleum Corp. (OXY), Marathon Petroleum Corp. (MPC), Devon Energy Corp. (DVN), Hess Corp (HES), Marathon Oil Corp. (MRO), APA Corp. (APA), and Ovintiv Inc. (OVV).
The job cuts follow a classic boom-and-bust cycle for Big Oil. After years of unprofitable growth fueled by excessive borrowing, the industry faced a reckoning in 2020 when the pandemic quashed demand for fuel. Fossil fuels hastily secured tens of billions in government bailouts through a range of programs, including tax refunds for unprofitable companies, bond market liquidity injections by the Federal Reserve, and subsidized loans to shaky companies.
Demand began to rebound in 2021, leading to record profits and increased CEO compensation at many companies. More recently the Russian war in Ukraine has driven demand to wartime peaks, providing additional windfall profits for the companies. They responded with a historic wave of share buybacks and dividends, accounting maneuvers that immediately funnel income to investors without the possibility of workforce investments.
The new data reinforce that Big Oil's sensitivity to investor demands outweighs any responsibility to its workforce or the economy. Since government bailout programs expired, consumers are picking up the tab in the form of high gas and home-heating bills. As a result, the opening months of 2022 have been staggeringly profitable for oil and gas. Chevron earned $6.3 billion in the first quarter, and ExxonMobil posted $5.5 billion. (It would have been even higher if not for the one-time costs of shutting down operations in Russia.)
In recent months, as high prices led to massive profits, Democratic lawmakers proposed a windfall profits tax on the companies that would include a rebate to consumers.
The job cuts tally is based on a comparison between the companies' reported headcounts at the ends of 2019, 2020, and 2021, a figure they must disclose in their annual financial reports filed with the Securities and Exchange Commission. It understates the true number of jobs eliminated because it fails to account for mergers like Diamondback Energy Inc's (FANG) acquisition last March of QEP Resources.
Diamondback appears to have added 158 jobs over the two-year period. That number does not account for the 257 former QEP employees whose jobs were eliminated when that company was absorbed. Other companies whose data are skewed by mergers include EQT Resources and Coterra. In 2021 alone, BailoutWatch identified five mergers closed accounting for a net loss of 3,160 jobs.
Only one of the top-20 companies appears to have added workers over the two years beginning 2020: Cheniere Energy Inc. (LNG) reported a net increase of 20 jobs to its 1,550-person workforce.
The combination of job cuts and higher fuel prices shows how corporate profits are driving widespread inflation, according to recent research from the nonpartisan Economic Policy Institute. Labor accounts for a historically tiny portion of overall prices, while corporate profits are by far the biggest factor, the research found.