Report
Ceres: Addressing Climate as a Systemic Risk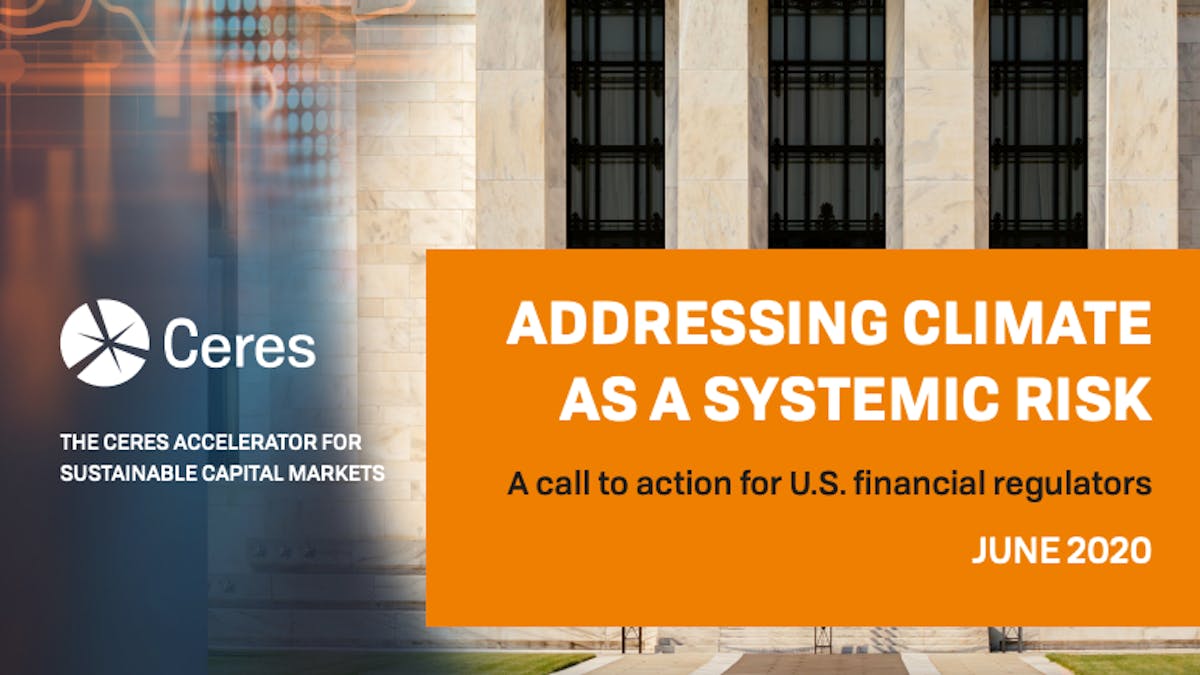 Climate change poses a systemic threat to the stability and competitiveness of U.S. financial markets, and financial regulators have the responsibility and the authority to better protect against that threat.
Climate change could destabilize the global financial system as investors abruptly recognize its threat. It's the job of U.S. financial regulators to protect the economy against those shocks, Ceres argues in this report.
The report reviews evidence that financial markets are already feeling the effects of a warming climate, as insurance companies absorb billions in losses from extreme weather events. Yet an unplanned transition to a zero-carbon economy could cripple key industries and topple the banks that invest in them, leading to a financial crisis that would dwarf 2008, Ceres writes.
"If climate change effects markets suddenly and unexpectedly, it could burst a 'carbon bubble,' which could pose grave dangers to financial markets and the real economy," it states.
"Financial markets, themselves, are not going to be the first responders to keep us from the threats posed by a climate emergency, former Fed governor Sarah Bloom Raskin writes in the report's Forward. She proposes that we rebuild from the pandemic "with an economy where the values of sustainability are explicitly embedded in market valuation."
To that end, the report outlines more than 50 concrete steps applicable to the full range of financial regulators, from the Federal Reserve to state insurance commissioners. It urges the Fed to integrate climate change into its oversight of the biggest and most interconnected financial companies, subjecting their finances to climate stress tests and requiring them to publicly disclose climate-related risks, including climate impacts of their lending and investment activities.
The report was released by the Ceres Accelerator for Sustainable Capital Markets, a project that aims to transform capital markets to reduce the worst impacts of the climate crisis.
Ceres is a nonprofit that works with investors and companies to promote sustainable solutions to challenges including climate change, water scarcity and pollution, and inequitable workplaces. Founded in response to the Exxon Valdez oil spill in 1989, Ceres promotes what it calls "the business case for sustainability." Ceres' climate-related work can be found here. Its most recent official financial disclosure is here.