Report
Evergreen Collaborative: Preventing a Climate Crash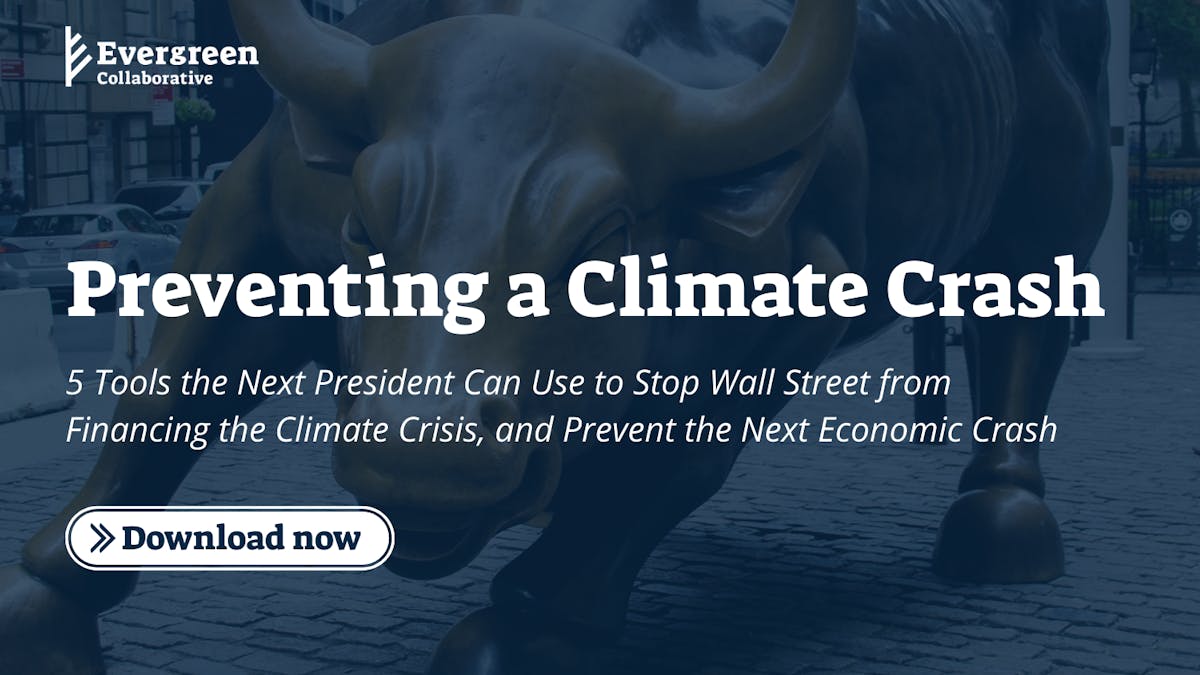 The next president can use five tools to rein in climate risk to our financial system and prevent the next economic crash.
In their October policy paper, leading policy experts from Evergreen Collaborative present innovative ideas for the next U.S. president and administration to use their powers to rein in climate risk to our financial system. They articulate the need to limit the contributions that the financial sector is making to climate risk through financing greenhouse gas pollution and to increase the resiliency of the financial system in the face of climate change.
Evergreen points out that since the Paris Agreement, the world's largest investment banks have financed more than $2.6 trillion in fossil fuel-related investments, and over 7,000 oil, gas, and petrochemical companies received between $3 and $7 billion from the Small Business Administration's Paycheck Protection Program (PPP). The authors argue that the next recession is likely to combine both the factors of risk and external events, and unless the next president acts quickly, America could stand on the brink of a climate recession.
The authors lay out five steps that the next administration can take that do not require new legislation or new authority:
(1) Appoint Financial Regulators Who Will Aggressively Use Their Authority to Take on Climate Risk
(2) Work With International Allies to Build a Stronger, More Resilient Financial System
(3) Drive Transparency and Accountability Among Corporations and the Financial Sector for Climate-Related Risks
(4) Use Dodd-Frank for What it Was Intended to Do—Reduce Risk
(5) Drive Financial Sector Clean Energy Lending and Investment to Communities in Need
Evergreen Collaborative is a group of former Gov. Jay Inslee for America staffers and supporters who came together in 2019 on a mission to elect a new president to build support for an all-out national mobilization to defeat the climate crisis and create 8 million jobs in a clean energy economy.