The 24th of February, 2022 was a terrible day for Ukraine, as Russia launched its invasion. It also was a great day to own oil company stock. The Texas driller EOG, awash in cash from high energy prices, declared it would treat shareholders to a bonus cash payout of $585 million via a special dividend. That same day, two other companies, Occidental and Ovintiv, announced their own double-digit dividend increases. 
As the war drags into its second month, Big Oil remains the only winner in sight. To ensure its windfall profits land in investors' pockets, companies rely on two main tactics: First, they repurchase shares of their own stock and retire them, reducing the number of shares outstanding and driving up the value of each share remaining in investors' hands. Second, they increase dividends, the quarterly payments investors receive for owning shares.
Amid high gas prices and war in recent months, oil and gas companies have kicked both tactics into overdrive, a new analysis from Friends of the Earth, BailoutWatch, and Public Citizen has found:
In the first two months of 2022, seven companies' boards authorized their corporate treasuries to buy back and retire $24.35 billion in stock — a 15% increase over all of the buybacks authorized in 2021. The total since the price spikes began is $45.6 billion.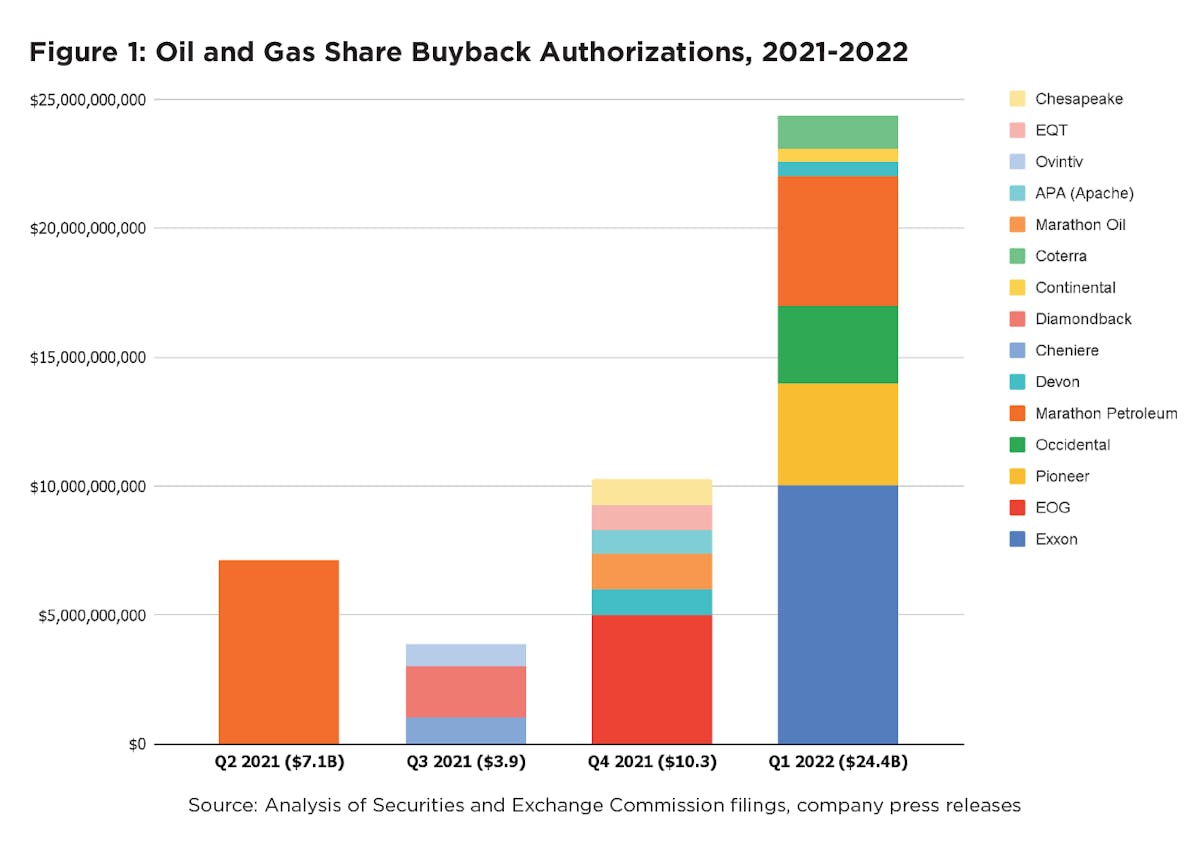 More than half the companies boosted their dividends, often extravagantly, in January and February. Eleven companies have at least doubled their payouts, some from zero, since the first quarter of 2021.
Six companies have begun paying additional dividends on top of their routine quarterly payments, including by implementing new variable dividends based on company earnings — a way of directing windfall profits immediately into private hands without any possibility of investment, employee benefits, or other uses. So far in 2022, these companies have started paying out an initial $3 billion in special windfall dividends. 
Four of these companies — Pioneer, Chesapeake, Conoco, and Coterra — announced variable dividends beginning after August 2021, as prices began to rise.