Occidental Petroleum is on the ropes. The oil giant has been careening towards bankruptcy ever since the pandemic hit. Just last week Oxy had to write down $6.6 billion in assets—or around 40% of its market value. The company that was once the largest operator in Texas's Permian Basin is now down to its last operating drilling rig in the region.
And yet. The corporate history of the oil giant—just like the oil industry as a whole—is one of avoiding accountability for its failures, lobbying hard for government bailouts, and extracting profits while leaving communities in the lurch. Already stimulus funds meant to help workers are being used to prop up oil corporations and environmental regulations are being rolled back while families struggle to make ends meet.
Without strong climate action to achieve a managed decline of fossil fuel production, the oil industry will use every trick in the book to turn this latest downturn back into booming profits.
The Ship Was Already Taking On Water
Occidental Petroleum was losing steam even before the pandemic hit. Oxy took on billions in debt in 2019 to fund its $38 billion acquisition of rival Anadarko Petroleum. When the pandemic slashed oil prices, it became apparent that Oxy might not have the cash to cover its coming debt payments. On March 18, 2020, Moody's downgraded Occidental's debt rating to "junk" status.
Ironically, Oxy had in 2014 previously spun off its California operations into a separate company, California Resources Corporation — a move which many observers wondered was designed "specifically to offload Occidental's California cleanup liabilities." From the start, CRC was saddled with heavy debts, a declining production base, and massive environmental liabilities in the form of thousands of idle and unplugged wells that CRC is legally required to clean up. To no great surprise, CRC filed for bankruptcy in July, and industry watchers have wondered whether its parent might soon join it.
Current CEO Vicki Hollub was paid $16 million in 2019 (which includes salary, bonuses, stock options, and more) — which is 86 times the median employee pay at Occidental.
Bailing Out the Sinking Ship
To weather the storm, Oxy lobbied President Trump and Congressional Republicans for a lifeline. Hollub was one of the oil CEOs who met with Trump in April to plead for an oil bailout. The company reported $8.7 million in lobbying expenditures in 2019 and another $2.9 million so far in 2020 — not including contributions routed through industry groups. Oxy even organized company employees to send letters to Congress with a "wish list" of policies to support.
In the past few years, Hollub has personally contributed to top Republican officials, including:
$2,700 to House Minority Leader Kevin McCarthy (R-CA),
$2,800 to Senate Majority Leader Mitch McConnell (R-KY),
$5,000 to Vice President Mike Pence's Great America PAC, and
$12,300 to the National Republican Congressional Committee.
For the 2019-2020 election cycle, Occidental Petroleum has given over $1 million in campaign contributions, of which 98% went to Republicans.
Oxy's wave of lobbying appeared to get results in April 2020 when the Federal Reserve relaxed its eligibility requirements for its Main Street Lending Program. The changes closely matched industry requests and appeared to specifically benefit Occidental, although to date, the company does not appear to have received funds from this program. A similar set of tweaks was proposed for a separate Fed bond purchase program that also seemed tailored to benefit Oxy, although they were not ultimately implemented.
However, Occidental did take advantage of a $195 million tax bailout provided by the CARES Act, which allowed companies to immediately refund some tax credits and "carryback" net operating losses to cover previous tax bills. And although the Fed bond purchase program eligibility was not relaxed, the Fed has turned to buying exchange-traded funds (ETFs) to bolster bond markets — at least one of which includes holdings of Occidental bonds. Notably, Oxy and its acquired companies have also received over $200 million in subsidies from state governments as well as $5 billion in federally backed loans since 2000.
Occidental has also likely benefited from Trump's aggressive rollback of environmental rules, such as the weakened fuel economy and methane standards. At least one Oxy subsidiary has benefitted from lowered royalty rates for oil it produces on public land.
Legacies of Contamination
Founded in the 1920s, Oxy grew rapidly after being acquired by Armand Hammer and striking oil in Libya in the 1960s. Hammer was a legendary global tycoon who had directly negotiated with world leaders from Vladimir Lenin to Ronald Reagan. For decades he typified the sort of globe-trotting capitalist deal maker that Donald Trump tries to playact on TV.
Currently, Occidental's oil and gas business is focused on the Permian Basin, the DJ Basin in Colorado, offshore Gulf of Mexico, as well as projects in Colombia, Oman, United Arab Emirates, Algeria, Ghana and elsewhere. OxyChem is also a leading player in the petrochemical sector. In recent years, Occidental has become the top oil producer in the Permian, and according to a Greenpeace analysis, has typically been the #2 flarer of gas by volume in the region.
The oil and gas business is an inherently dirty and dangerous trade, and over the years the industry has deployed any number of strategies to avoid, deny, or delay accountability — although communities and workers have won victories in many cases. Oxy is no different.
In 1968 the Occidental Chemical Corporation acquired Hooker Chemical, the owner of what was to become the most infamous contaminated site in history — Love Canal. Hooker's dumping of toxic chemicals near Niagara Falls, NY dated back to the 1940s, and in 1978 an environmental emergency was declared and over 200 families were relocated. After years of activism from local residents, Oxy ended up settling various lawsuits for hundreds of millions of dollars with local residents, New York state, and the federal government.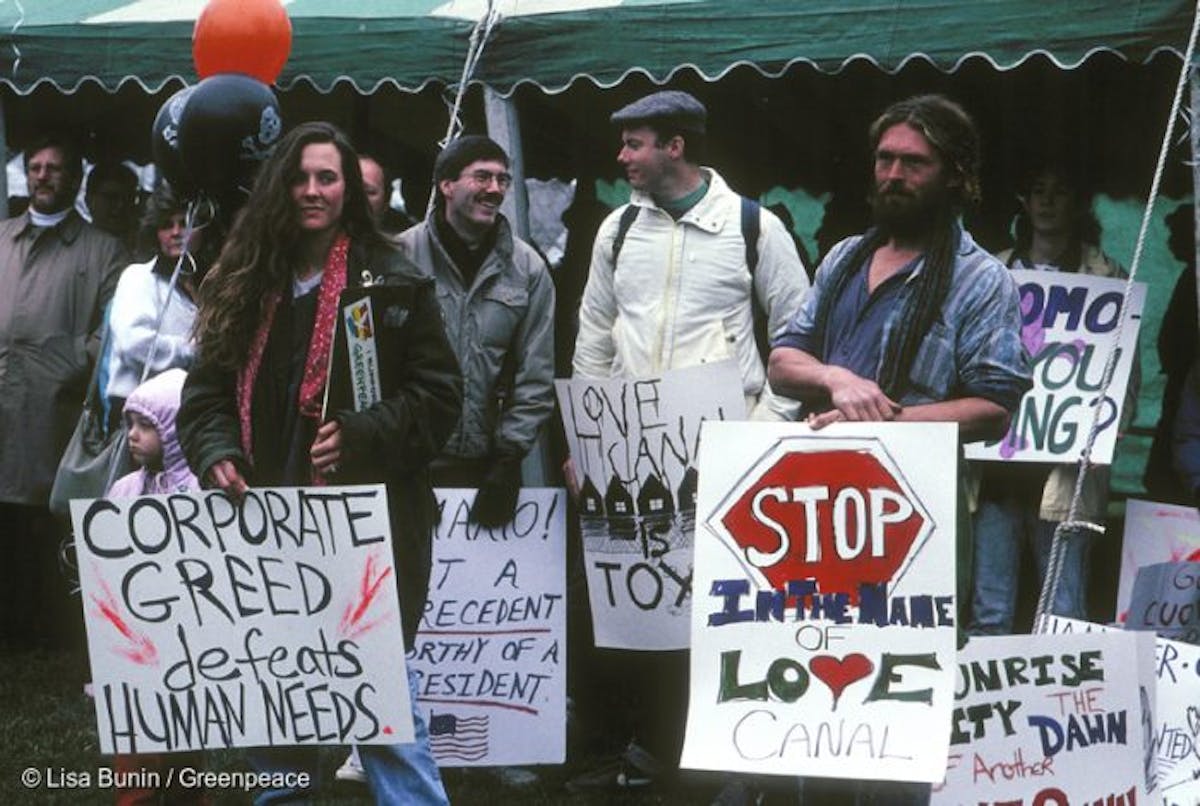 In 1988 the Piper Alpha offshore platform in the North Sea, operated by Occidental, suffered a gas leak and explosion, killing 167 workers. It remains the most lethal offshore oil disaster in history. An official inquiry faulted Occidental for "inadequate maintenance and safety procedures," but no criminal charges were ever filed against the company.
In the late 1990s, Oxy attempted to drill for oil in northeastern Colombia without the consent of the Indigenous U'wa people living there. The U'wa pursued legal action, mobilized international support, and took direct action to block highways and occupy drill sites. The U'wa also threatened to commit mass suicide if the project went forward. In 2002, Oxy announced it was abandoning the project after its first exploratory well was dry.
In Peru, a 2007 lawsuit brought by indigenous Achuar plaintiffs alleged that for 30 years Oxy had contaminated the Corrientes River basin, including by dumping "850,000 barrels per day of toxic oil by-products directly into rivers and streams used by the Achuar for drinking, bathing, washing, and fishing." The case was settled in 2015. In the video below one of the plaintiffs, Adolfina Garcia, explains the impacts of the alleged contamination on the people.
Out of Alignment with Climate Goals
In addition to polluting communities, Occidental's historical emissions and investments in future production are fueling the climate crisis. Occidental ranks as the forty-fourth-most polluting company in history, responsible for 5.89 billion metric tons of carbon dioxide equivalent emissions from its founding through 2017.
Like almost all oil and gas majors, Oxy's business model and investments are wildly out of alignment with the goal of limiting global warming to 1.5C. Analysis by Carbon Tracker has found that the vast majority of Occidental's likely capital expenditures in the coming decade are inconsistent with oil demand pathways under ambitious climate scenarios. Shifting this business model to be compliant with the Paris Climate Agreement will "require a dramatic change in behaviour" on the part of oil and gas companies.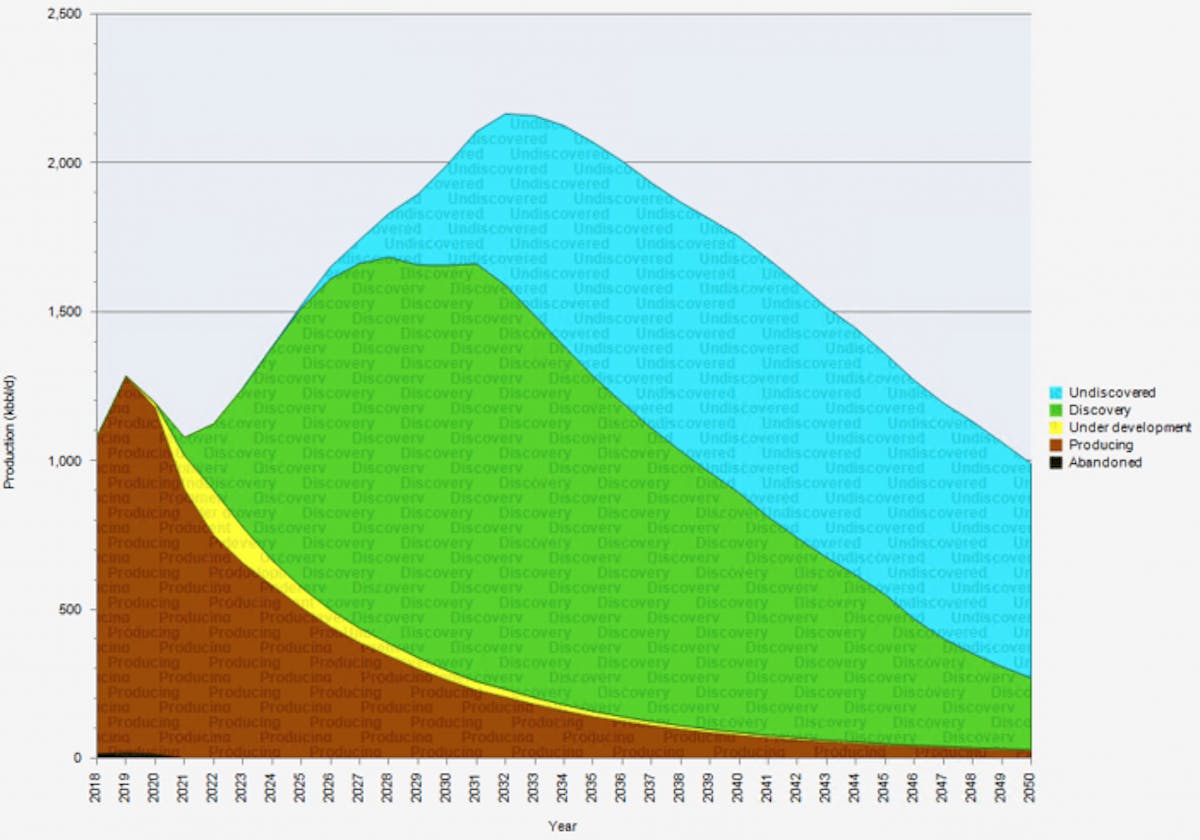 Unfortunately, rather than taking steps to bring their extractive business model into alignment with climate limits, Oxy has instead positioned itself as an early proponent of enhanced oil recovery (EOR), carbon capture use and sequestration (CCUS), direct air capture (DAC), and other false climate solutions.
A Green New Deal … and a Managed Phase Out
Around the globe, the actions of the oil and gas industry have polluted communities, mostly Black, Brown or low-income. Occidental Petroleum's long history illustrates the fact that spills, explosions, chronic air and water pollution are inevitable byproducts of their business model. Similarly, their reckless investments in expanded oil and gas production are fueling the climate crisis.
The industry has shown they are willing to pull every string they can to maximize profits and dodge accountability, from restructuring to shed liabilities to aggressive lobbying to gain government subsidies and bailouts. To break out of this vicious cycle, we need political leaders who will invest in a just and green recovery and ensure a managed decline of the oil and gas industry that puts workers and communities first.
The fossil fuel industry is using today's disruption to entrench and enrich themselves, and they are using sneaky attempts to use this moment of chaos and disorientation to line their pockets. We can't let them.