Report
Rainforest Action Network: Banking on Climate Chaos 2021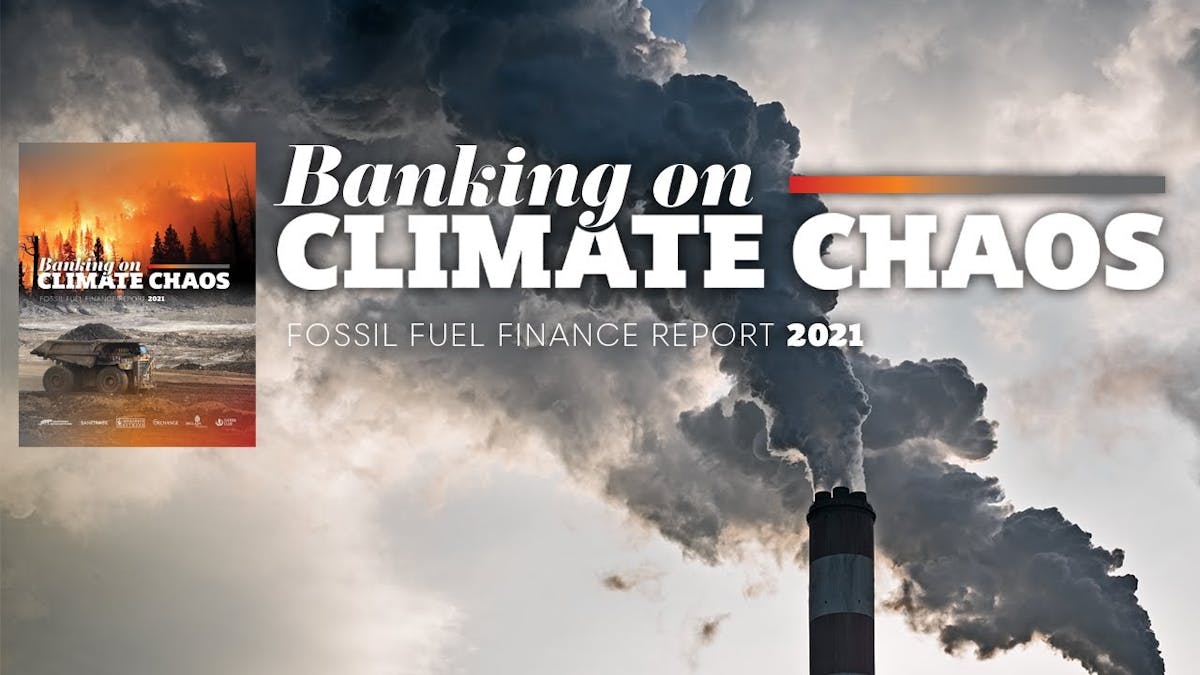 In the five years since adoption of the Paris Agreement, 60 big banks have financed fossil fuels to the tune of $3.8 trillion.
In their yearly report on banks and fossil fuel financing, Rainforest Action Network finds that in the 5 years since the Paris Agreement (2016-2020), the world's 60 biggest banks have financed fossil fuels to the tune of $3.8 trillion. Even though fossil fuel financing dropped by nine percent in 2020 due to the COVID-19 pandemic, they were still higher than 2016 levels.
JPMorgan Chase remains the world's worst banker of fossil fuels over this time period, though its funding did drop significantly last year. Citi follows as the second-worst fossil bank, followed by Wells Fargo, Bank of America, RBC, and MUFG. Barclays is the worst in Europe and Bank of China is the worst in China. This report also tracks funding for 100 top fossil fuel expansion companies and finds JPMorgan Chase, Citi, and Bank of America to be their biggest bankers over the last half decade, all with significant increases in funding last year despite voicing their support for the Paris Agreement.
The report's landing page features interactive data sets and profiles of individual banks, as well as case studies including the Line 3 pipeline in the United States, Mozambique LNG projects, and the Emba Hunutlu coal plant in Turkey. Last year's version of this report can be found here.
Rainforest Action Network (RAN) is a nonprofit, tax-exempt 501(c)(3) corporation that preserves forests, protects the climate and upholds human rights by challenging corporate power and systemic injustice through frontline partnerships and strategic campaigns. RAN's most recent financial disclosure can be found here. Other RAN reports can be found here.