Big Oil companies and trade groups helped lead the fight against proposed rail safety rules that could have limited damage from the East Palestine disaster, spending $152 million while successfully lobbying to roll back safety standards during the Trump Administration.
The American Petroleum Institute (API) and American Fuel and Petrochemical Manufacturers (AFPM) together spent $34.7 million between 2015 and 2017, amid a pitched battle in Washington over new safety rules proposed under President Obama to prevent and reduce damage from freight rail disasters, a new BailoutWatch analysis has found.
Seven Big Oil companies each spent more than $5 million lobbying including on rail safety in that time period: Koch Companies ($30.1 million), Exxon Mobil Corp. ($23.8 million), Chevron USA Inc. ($18.3 million), Shell Oil Co. ($11.5 million), BP America Inc. ($9.6 million), Occidental Petroleum Corp. ($6.1 million), and Phillips 66 ($5.1 million), the analysis found.
In all, BailoutWatch identified 18 fossil fuel interests lobbying on rail safety during three-year period when the Trump administration reversed Obama-era efforts to prevent freight train disasters — 16 companies and the two trade groups.
Big Oil played a key role debating the finer points with the Department of Transportation's Pipeline and Hazardous Materials Safety Administration (PHMSA) and Federal Railroad Administration (FRA).
For example, API and AFPM, the two trade groups, filed lengthy public comments opposing efforts to enhance train braking mechanisms by mandating Electronically Controlled Pneumatic (ECP) brakes. Industry experts have argued ECP brakes could have limited the devastation in East Palestine.
The industry comments ranged from self-interested to cartoonishly illogical. Both groups opposed regulating brakes because better brakes would not prevent derailments — akin to saying seat belts are unnecessary because they don't prevent car wrecks.
"Despite track failures being a leading cause of derailments," AFPM groused, "much of DOT's regulatory efforts related to the transport of flammable liquids have been primarily focused on the characteristics of the materials transported and the tank car specification, neither of which is a causal factor of derailments."
In other words, the companies refining oil into fuel and chemicals think safety rules about hazardous materials should not get so hung up on the actual hazardous materials or the rail cars containing them.
They also argued that quick rule rollbacks would actually improve safety, because of hazy free-market forces: "A quick resolution on this matter will help to establish market certainty and allow for more efficient fleet management and investment in tank car infrastructure, thus improving safety," AFPM wrote.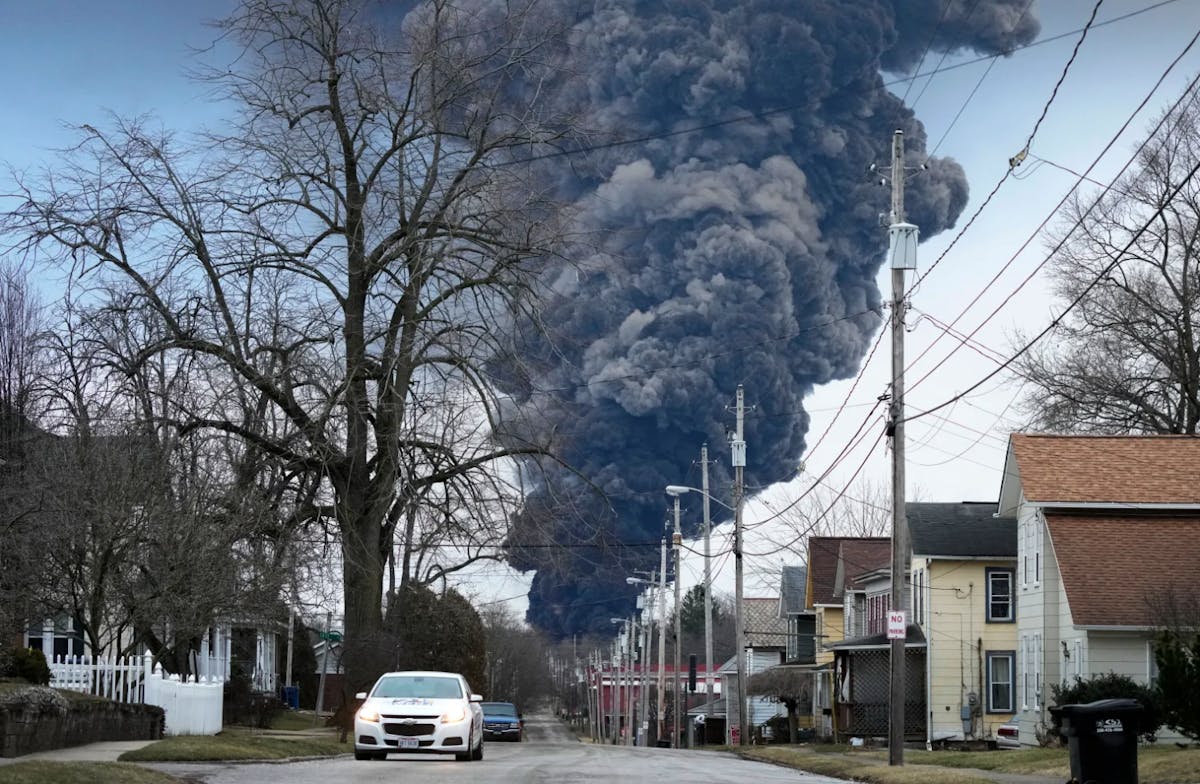 National outrage crested last month over the Feb. 3 derailment of a 149-car Norfolk Southern train in the small town of East Palestine, Ohio. Images of massive smoke plumes from burning vinyl chloride, a toxic, oil-derived chemical, drew widespread outrage — as did news of mass wildlife die-offs while residents were told their homes were safe for return.
The $152 million lobbying total is based on a review of public disclosures by oil and gas companies and their trade groups that specifically mention lobbying on rail safety in 2015, 2016, and 2017. The tally represents their total spending on lobbying during the quarters when they weighed in on rail safety, because disclosures do not specify how much was spent on each issue.
The complete data set can be viewed here.