Workers' pay fell while top executives' pay rose at the biggest oil and gas companies last year, a new BailoutWatch analysis has found, undercutting industry claims of a labor shortage driven by negative publicity and worker disinterest.
CEO pay at the 15 biggest U.S.-based oil and gas companies rose, on average, about 4% from 2021 to 2022, recent corporate disclosures show. Worker pay, by contrast, dipped about 1% in the same period, even as high inflation reduced people's spending power.
As a result, CEOs earned 102 times their median worker's income in 2022, up from a ratio of 98:1 in 2021, with CEOs making $17.4 million, on average, while oil and gas workers received about $170,500. 
The average oil field worker's salary is $47,038, according to ZipRecruiter. Companies disclose median workers' income, not average, so these figures obscure much-lower wages typically paid to the half of employees who earn less than the median level.
Among the key findings:
The 15 CEOs collectively received $9.4 million more in 2022 than 2021, enough to employ 55 additional workers at the average median worker's pay across their companies.
CEO pay increased at 73% (11) of the companies, while median worker pay rose at about half (8). Only three companies (20%) increased workers' pay enough to keep up with inflation.
At the 11 firms where CEO pay rose, the gap between CEO and worker pay (expressed as a ratio) also increased, showing how excessive executive pay fuels inequality. The 11 firms are: Exxon Mobil Corp,  Chevron Corp, EOG Resources Inc., Marathon Petroleum Corp., Occidental Petroleum Corp, Pioneer Natural Resources Co, Hess Corp, Cheniere Energy Inc., The Williams Cos. Inc., Devon Energy Corp, and Diamondback Energy Inc.
Roughly half the companies reported pay ratios greater than 100:1. ExxonMobil's was the highest at 210:1, up from 125:1 in 2021. Exxon CEO Darren Woods made $35.9 million in 2022, a 52% increase over his 2021 compensation. Woods' pay package included nearly $90,000 for personal security, $12,000 for financial planning, and roughly $160,000 for personal use of company aircraft.
Complaints about workers' motivation to take oil and gas jobs have become a key industry talking point in Washington. "We just can't get people back," Pioneer Natural Resources CEO Scott Sheffield told Congress last year, blaming a worker shortage for the industry's failure to increase production to meet higher demand and ease the burden of high prices on consumers.
Something Sheffield didn't mention: His median worker's pay fell 3% from 2019 to 2021, while his compensation jumped 19% in that two-year period to $16 million — 96 times the median workers pay. Sheffield reaped millions more by selling stock last year as high crude oil prices boosted shares. (Pioneer announced in April that Sheffield will step down at the end of the year.)
The trend continued in 2022, with Sheffield's pay rising to $19.1 million, a 19% increase over 2021 and 126 times the median worker's pay. Pioneer's median worker pay fell more than 9% from 2021 to 2022.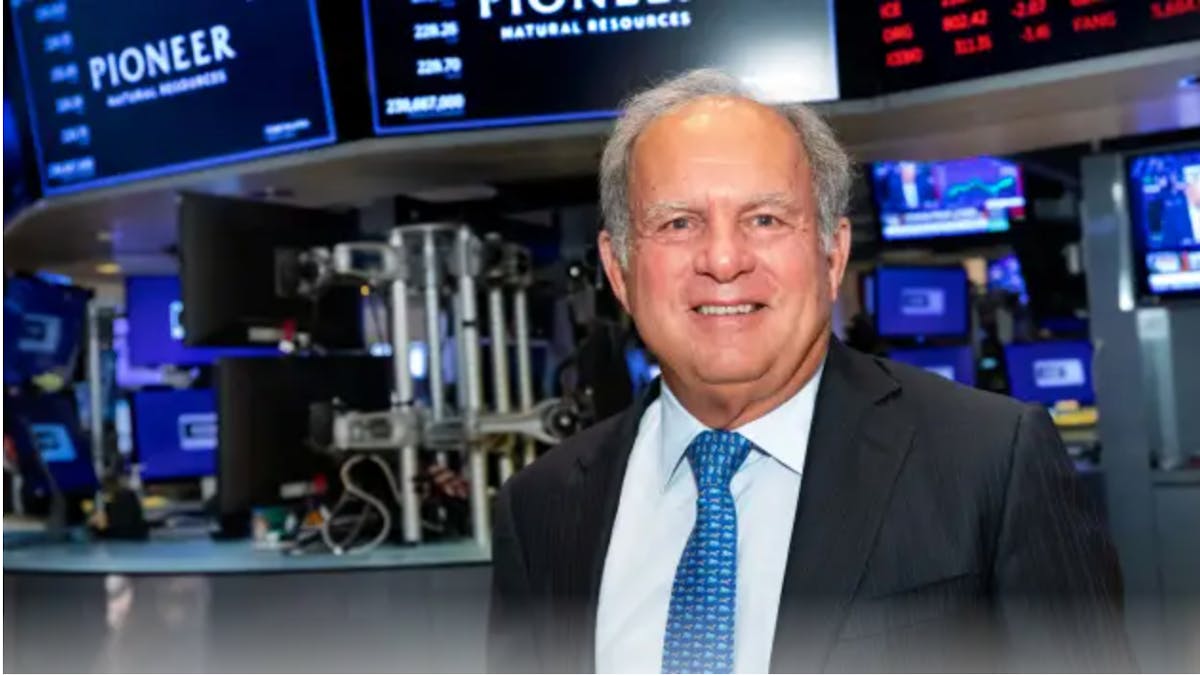 Other oil executives have claimed workers are abandoning their industry due to rising criticism of its role fueling the climate crisis. Workers are being drawn into big tech instead, industry leaders told Reuters last year. Chevron CEO Michael Wirth, whose 2022 pay totaled $23.6 million, complained the Biden Administration was trying "to criticize, and at times vilify, our industry" in an open letter last June, adding, "These actions are not beneficial to meeting the challenges we face."
Wirth's 2022 pay package totaled $23.6 million, 146 times his median worker's pay, up from 123 times his median worker's pay in 2021.
Responding to the Federal Reserve Bank of Dallas' quarterly energy survey this year, another, unnamed, industry executive said they "expect oil and gas production to decline in 2023 due to higher drilling and completion costs. The significant factor is the lack of qualified employees."
Most oil executives responding to the survey (63%) expected employment in the oilfield to remain flat or decline this year.
The 2010 Dodd-Frank law overhauling financial regulation added a requirement that companies disclose their median employee's total compensation and how it stacks up against the CEO's. Corporate interests strongly opposed the requirement, fearing the added transparency would fuel worker dissatisfaction and increase scrutiny of lavish executive pay packages.
The analysis considered the 15 biggest U.S.-listed Oil and Gas companies throughout the value chain, excluding three oilfield services companies: Schlumberger N.V., Kinder Morgan Inc., and Baker Hughes Co. Three others were excluded due to a lack of data: Enterprise Products Partners LP, Energy Transfer LP, and MPLX LP.
The companies analyzed, in descending order of market capitalization, were: Exxon Mobil, Chevron, ConocoPhillips, EOG, Marathon Petroleum, Occidental Petroleum, Valero Energy Corp, Pioneer Resources, Phillips 66, Hess, Cheniere, Williams Cos., Devon, OneOK Inc, and Diamondback.